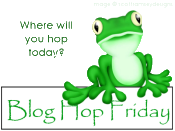 After how many months of being quite. I am back now and ready to go on hopping. Friday Follower is the first one I joined when I was into blogging. Since I stop and back again, I would like to the same thing. Its my first time to join friday blog hop. I know I will have so much fun here.
We ask that you please follow these steps.
1) Follow the first 6 in the linky. These are our hosts. Be sure to comment so that we can follow back!
2) Post our button in a post or sidebar!– THATS IT!
For more followers- Grab the linky code and post this on your blog for your followers!
Be SURE to leave a comment so that we can return the follow.